MANNING THE LINE
DBSC's summer programme (extending from late April to the end of September) calls on the services of a very special band of regular and experienced Dublin Bay volunteers. There are race officers, time-keepers, and record keepers, flag operators, mark layers ….not to mention the drivers of DBSC's state of the art committee-boats , MacLir and Freebird.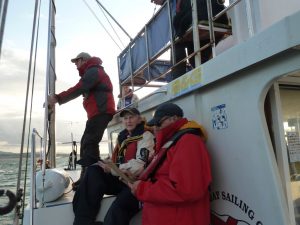 Keeping this operation on track, week after week, throughout the five months of the Dublin Bay season is a tough call. There are limits to the time volunteers can devote to Dublin Bay. Family, work and social pressures have be accommodated. Sometimes the team coordinators are put to the pin of their collars in making sure that no vital function is not provided for.
This is a where DBSC's class organisation classes comes in. From time immemorial, and in accordance with a set of rotas, each of the Club's twenty classes have been expected to provide reliable helpers who can expected to lend support to the regulars on committee boats or at the West Pier. They can be penalised, too, if helpers fail to turn up, though this is now very much a thing of the past, what with committee members like Ann Kirwan and Helen McCabe, who keep a watchful eye on things. Reliable, in the sense that they have to have some knowledge of DBSC procedures and are physically up to the job. Aged parents will not fill the bill, nor a youngster arriving at the West Pier on a bike. Nor indeed, as actually happened on one notorious occasion, a skipper's own personal chef…
Manning regulations are spelt out in the Club yearbook. Keelboat classes have to provide three helpers and two cars on Tuesdays and Saturdays. The cars are for bringing the Hut team and their equipment to the Starters Hut on the West Pier. On Saturdays one of the trio must come with sailing gear, so that he or she can go aboard a committee boat. On Thursdays two helpers only are needed, both with sailing gear. Assembly times (on the RIYC terrace) are: Tuesdays. 17:35 hrs. Thursdays 17:00 hrs, Saturdays, 12:45 hrs. To view the manning rota, see above…..
Dinghy arrangements are slightly different (two people, with sailing gear): Tuesday's 17:30 hrs on the RIYC terrace. Saturdays at 12:45, also on the RIYC terrace. (See dinghy rota above)